Program Update - Wednesday, July 1, 2020
We were approved to offer some of our normal summer programs on a limited basis! The following programs are now open for registration:
Summer Playground Program
Youth Tennis
Youth Dance
Creative Craft Corners
Karate
Some of the program details (dates/times/class sizes) have changed, so be sure to read the description of each program before registering!
REGISTRATION HOLD (reminder) - Thursday, June 11, 2020
All of our Recreation and Aquatic Programs are postponed until further notice.
Due to the unknown future of our programs, we have placed a 'hold' on all summer program registrations. The reason for this is to avoid large amounts of refunds in the future if we have to cancel or change programs.
Please still put you name on the Wait List for any program that you would like to register for! Once we have more information about when we are able to begin our programs, we will contact the participants on the Wait Lists to get them registered for each program.
For anyone that is already registered for programs- if we have to cancel a program or we change the fee for any program(s) you are already registered for, you will be refunded the difference in price.
Park & Rec Lobby Reopening Monday, June 1 - Friday, May 29, 2020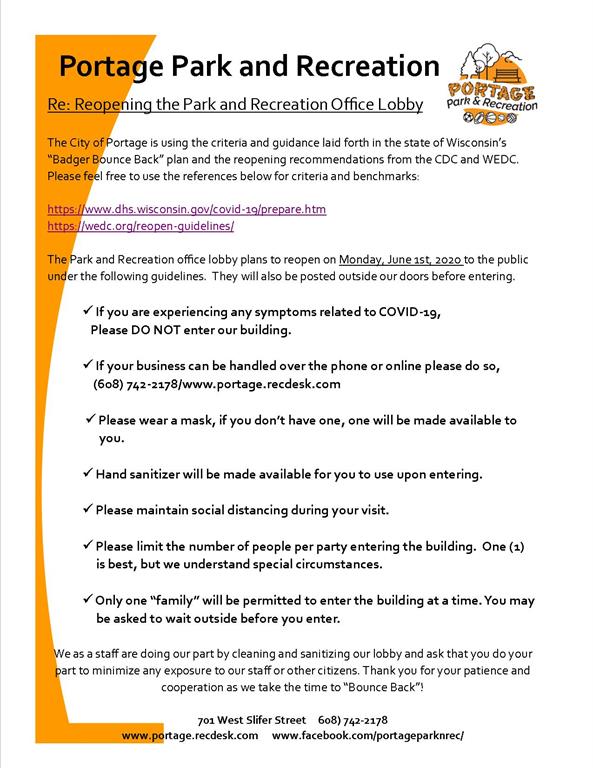 Portage Memorial Day Celebration - Monday, May 25, 2020
Follow the link to watch the Portage Memorial Day Celebration that took place at Blue Star Park
City of Portage Reopening Announcement - Wednesday, May 20, 2020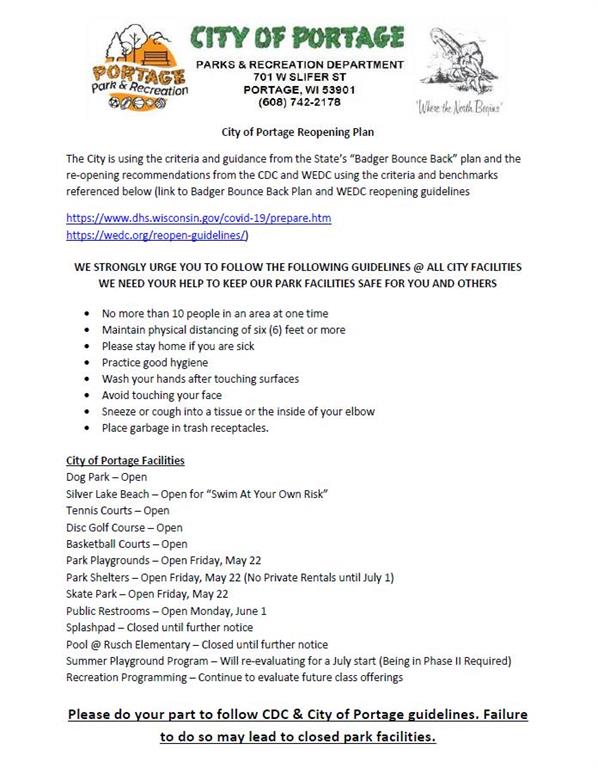 2020 Activity Guide
It's here! Our
2020 Activity Guide
shows you all of the great programs, events, and swim lessons that our department has to offer!
Registration for our Summer Programs will begin on Monday, March 30th, so be sure to set up your online accounts ahead of time!
Comprehensive Outdoor Recreation Plan
CLICK HERE to view our updated Comprehensive Outdoor Recreation Plan (adopted July 2019)