Employment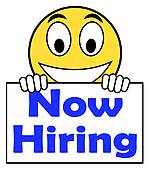 Seasonal Park Maintenance Laborers
The City of Portage will begin accepting applications in February for our seasonal park maintenance positions for the spring and summer of 2020. Positions are 32-40 hours per week with lawn mowing operations being the primary responsibility. General park maintenance duties also included. A link for a complete job description is below. Applications are being accepted until positions are filled.
YOUTH SPORTS INSTRUCTOR
The Youth Sports Instructor position is responsible for supervising participants, as well as organizing and leading various youth sports activities. All Youth Sports Instructors must be able to promote fair play, teamwork, and encourage all participants. They must also maintain rules and safety standards at all times. Applicants must be 15 years old or older. Starting pay is $7.50 per hour, depending on qualifications. 10-25 hours per week, Monday - Friday, some weekend and evening hours required as needed.
RECREATION POSITION DESCRIPTIONS
Applications can be dropped off at the Park & Rec Office (701 W. Slifer St) or emailed to Mike Percy, Recreation Coordinator, at mike.percy@portagewi.gov.
SKATEBOARD BASICS INSTRUCTOR
LIFEGUARD

The Portage Parks and Recreation Department is looking to hire lifeguards for the Portage Community Pool and Silver Lake Beach. Lifeguard certification or the ability to obtain is required, must be 15 years old or older. Pay rate begins at $9.00/hour
Interested applicants can contact our office for more info 608-742-217
8 OR click on the application link below and bring it to the Park and Rec office.
Annual Lifeguard Training Courses will be offered through the Park & Rec department as needed. Participants who pass this course will have the opportunity to work as a Lifeguard by the Portage Park & Rec department following the course. Contact Mike Percy for more information @ mike.percy@portagewi.gov